2017 will mark the 10th anniversary of the iPhone and Apple has something major planned to celebrate the occasion. We're more than a year away from the launch of the iPhone 8, but because of Apple's ambitious plans for the device, there are already an abundance of rumors hinting at the impressive features coming in the 2017 iPhone.
Rumors suggest it's going to be a radical redesign, with an edge-to-edge display that does away with the top and bottom bezels where features like the Touch ID fingerprint sensor and the front-facing camera are housed. Instead, Touch ID and the camera may be built directly into the display, meaning there will be no Home button. Jony Ive has wanted to introduce an iPhone that looks like a single sheet of glass for several years, and 2017 may be the year that it's possible.
With that design, the display would take up the entire front of the iPhone, but it isn't clear if the display will grow to fit the iPhone or the iPhone will be shrunken down to fit the display (rumors suggest Apple will use a 5.5-inch or larger display). The display itself is said to be flexible OLED rather than an LCD, allowing Apple to introduce a thinner device that consumes less power and offers a better display with higher contrast ratio and more true to life colors. It may also feature edges that are somewhat curved on both sides, but rumors are unclear on this point.
As for the body, rumors suggest Apple is finally going to move away from the aluminum used in the iPhone 5, 5s, 6, 6s, and SE, instead re-adopting a glass body that's similar to the body that was used in the iPhone 4. At least one iPhone model coming in 2017 will use a glass body, according to Apple supplier Catcher Technology, and according to analyst Ming-Chi Kuo, the glass will be built around an aluminum or stainless steel frame.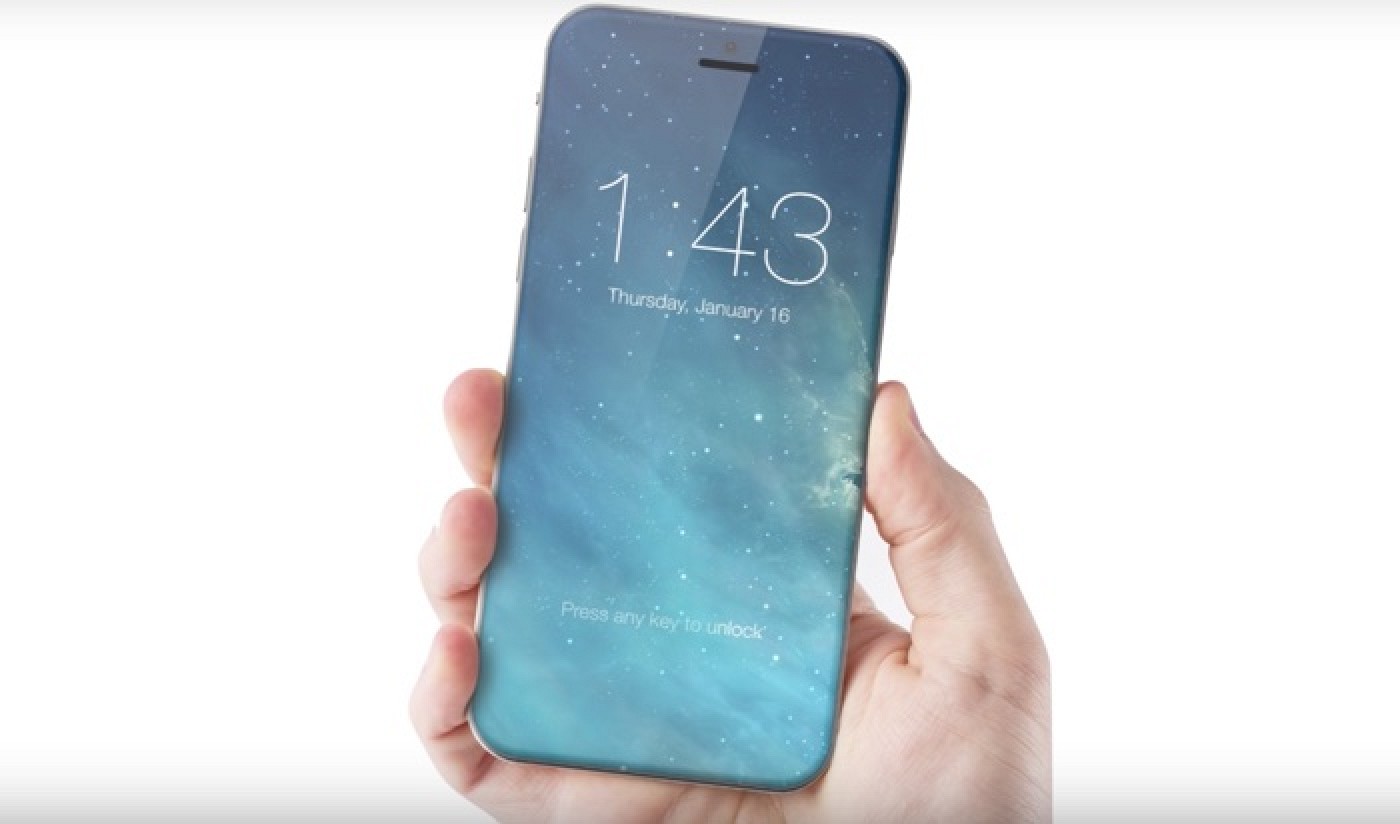 Edge-to-edge iPhone concept image via ConceptsiPhone
Inside, the iPhone 8 is expected to have a 10-nanometer A11 chip that will be both faster and more efficient, plus rumors suggest it could also include features like long-range wireless charging and bio-metric additions like iris or facial scanning. In higher-end models with a dual-lens camera, both lenses are expected to feature optical image stabilization.
Apple is said to be planning to position the OLED iPhone 8 as a "Premium" model that will perhaps be sold alongside standard flat display 4.7, 5, and 5.5-inch iPhone 8 models, but it is unclear exactly what two sizes will be available and in what configurations. Rumors have suggested everything from 4.7 inches to 5.8 inches, and there is some confusion over whether all of the models will have a curved screen. Most rumors seem to agree that only one higher-end model will feature an OLED display.
The iPhone 8 is still under development and will likely launch in the fall of 2017, and in the months ahead of its launch, we'll undoubtedly learn more about the specs of the device. In 2016, Apple is expected to release the iPhone 7, a device with more modest design changes.
Naming
Following Apple's standard naming scheme, with a numeric increase during even years to mark external design changes and an "S" increase during odd years to denote internal feature updates only, the 2017 iPhone would be called the "iPhone 7s."
Given the major changes Apple plans to introduce to the iPhone in 2017, it seems unlikely the device will receive an "S" name, so there's a good chance Apple may decide to skip directly to the next full number, naming the 2017 iPhone the iPhone 8.
2007 – iPhone
2008 – iPhone 3G
2009 – iPhone 3GS
2010 – iPhone 4 (new design)
2011 – iPhone 4s
2012 – iPhone 5 (new design)
2013 – iPhone 5s
2014 – iPhone 6 and iPhone 6 Plus (new design)
2015 – iPhone 6s and iPhone 6s Plus
2016 – iPhone 7 and iPhone 7 Plus
2017 – iPhone 8 and iPhone 8 Plus
iPhone 8 is a tentative name for the device — it has not yet been confirmed by Apple — but it seems to be the most logical choice for a major update. There's always the possibility Apple will call it something else or make 2017 the year it moves away from a numbered iPhone naming scheme. Apple is also rumored to be planning to produce a total of three iPhone models in 2017, so the naming could change.
Work on the 2017 iPhone is said to be taking place in Israel, and one report suggests employees at the facility are calling the device "iPhone 8," but it continues to be unclear as to whether that's the official name Apple will go with.
Design
According to analyst Ming-Chi Kuo, Apple is going to move away from the aluminum body that it's been using since 2012 in an effort to differentiate the iPhone from the devices that have come before it.
Apple is expected to instead re-adopt the glass-backed body last used for the iPhone 4s. Glass is more fragile and heavier than aluminum, but Kuo does not foresee this being problematic. Many advances have been made in glass technology and materials like Gorilla Glass are sturdier than ever, which may help prevent breakage. Cutting down on the thickness and weight of the display through the use of OLED will allow Apple to use a heavier material for the body without significantly impacting the overall weight of the device.
Kuo also believes Apple will use a metal frame to house the components of the iPhone, which will be wrapped in glass. He predicts a stainless steel frame will be used in the higher-end iPhone, while less expensive models may get an aluminum frame.
Multiple rumors have suggested there will be three versions of the iPhone: the "premium" OLED model described above and two standard devices, with sizes that may include 4.7, 5, and 5.5 inches.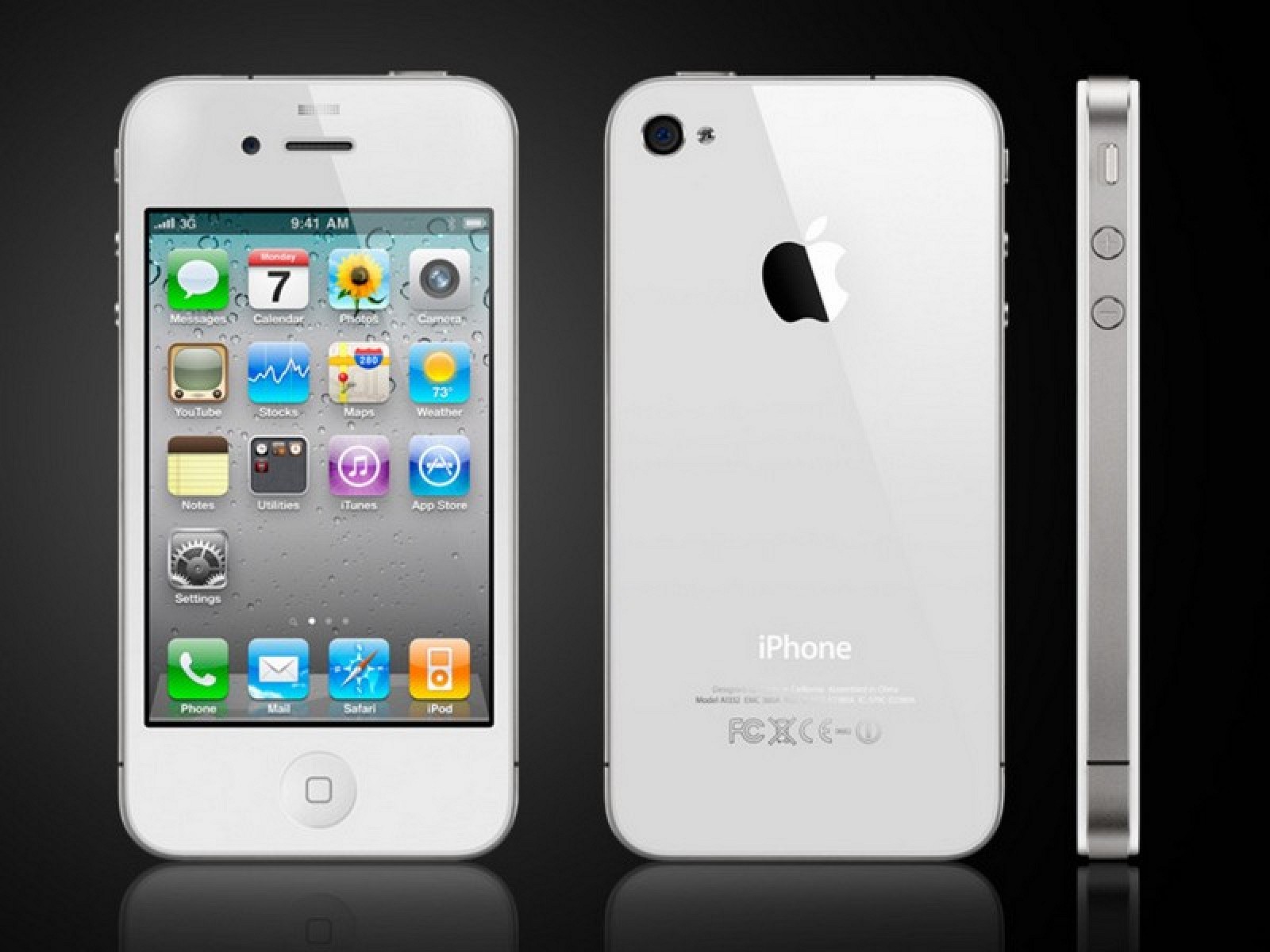 The iPhone 4, introduced in 2010
Allen Horng, CEO of Apple supplier Catcher Technology, has corroborated Kuo's report. According to both Horng and Kuo, at least one 2017 iPhone model will include a glass backing, but Apple may pair one glass-bodied model with one or two aluminum-bodied models. Rumors have disagreed on whether all three models will include a glass body, as Nikkei says all iPhone models will have glass backings.
One somewhat conflicting rumor from Barclay's Research suggests Apple will offer the iPhone 8 in just two sizes: 5 inches and 5.8 inches. According to Barclay's, both models will have a curved, bezel-free display, but only one will feature OLED technology.
Display
The iPhone 8 is expected to include a flexible OLED display and Apple has already signed a deal with at least one manufacturer – Samsung — to produce OLED displays for devices set to debut in 2017.
Apple may also be investing in AMOLED supplier AU Optronics and it has a secret lab in Taiwan where it is exploring advanced display options like OLED and Micro-LED. Apple's suppliers are also gearing up to produce OLED displays, investing in new equipment and technology.
At least some OLED panels may come from Sharp, who Apple is in talks with. Sharp has also confirmed that Apple is indeed making the switch to OLED in 2017.
Samsung will provide Apple with an estimated 40 million AMOLED panels in 2017, potentially supplemented by panels from LG Display, AU Optronics, Japan Display, and Sharp.
An OLED display eliminates the need for the backlighting that's used in traditional LCDs, which would allow Apple to cut down on the thickness and weight of the display used in the device. OLED displays can also be flexible, perhaps allowing Apple to create a device with a more curved or wraparound display.
OLED displays also offer better contrast ratio, truer colors, improved viewing angles, better power efficiency to maximize battery life, and a faster response time than an LCD for faster refresh rates. On the downside, OLED displays don't have the lifespan of an LCD display and they're more prone to water damage, two issues Apple will need to overcome. Apple already uses OLED displays in the Apple Watch.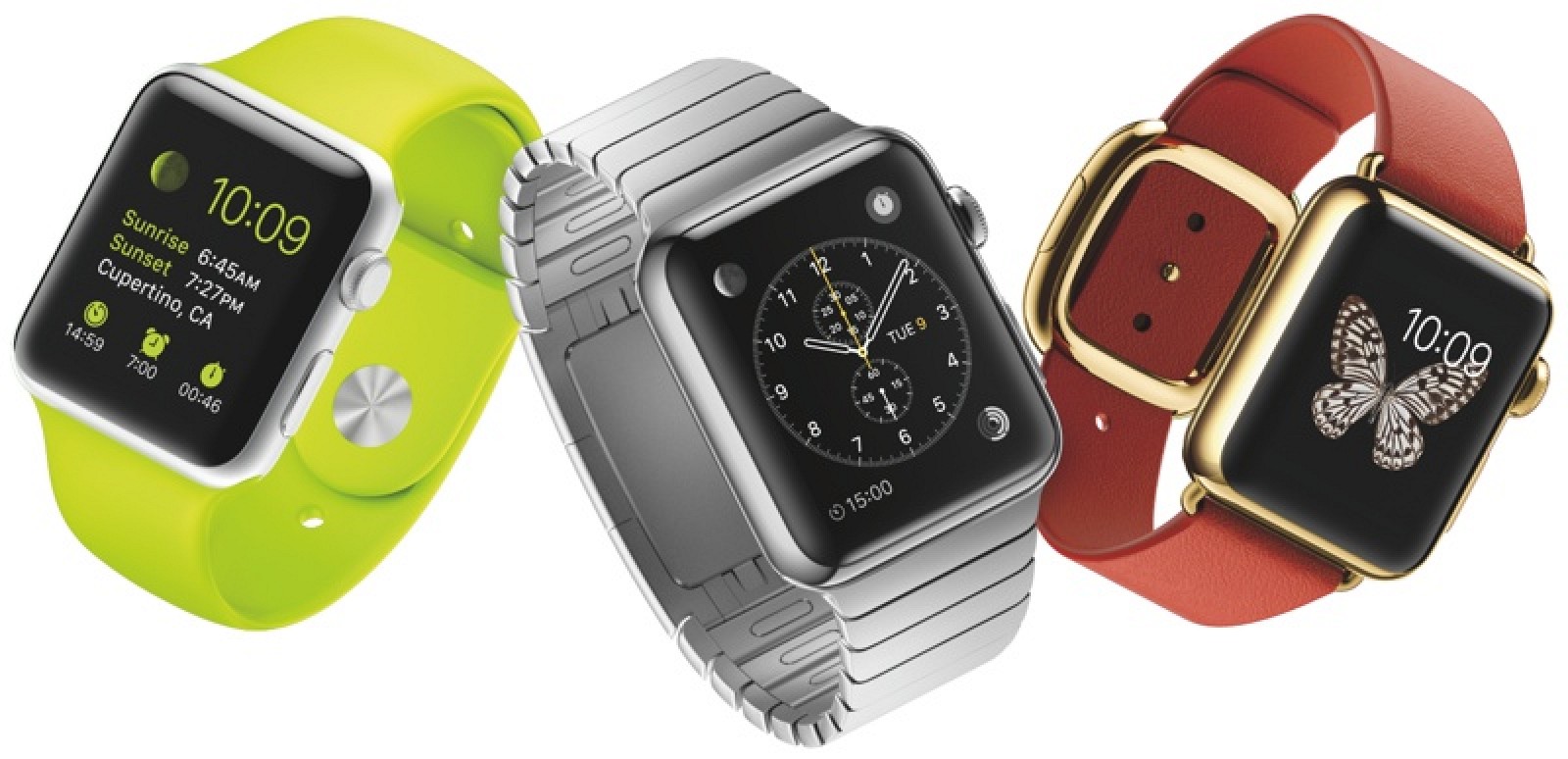 The Apple Watch has an AMOLED display
There are multiple rumors on the size and type of the panels Apple will be using. One suggests Samsung is supplying Apple with 5.5-inch OLED panels, while another says Apple is seeking a 5.8-inch OLED display to be used in one of the iPhone 8 models, and yet another says Apple will debut 5 and 5.8-inch screens, one with an OLED panel and one with a traditional LCD screen.
In addition to confusion over the size of the new iPhones set to debut in 2017, there are also conflicting rumors on design. On a whole, it's looking like we're going to see at least one model of the iPhone with an OLED display that is perhaps curved and is edge-to-edge, with no bezel. To get a clearer picture of what to expect from the iPhone 8, we'll need to wait for additional information, but some of the possibilities are listed below.
First of all, and perhaps most interesting, Apple blogger John Gruber says he's heard some "scuttlebutt" suggesting Apple has plans to implement an edge-to-edge display. That means the phone would have no top, bottom, or side bezels, with the display taking up the entire front of the device.
Gruber's information has been confirmed by reports from The Wall Street Journal and Bloomberg, both of which believe Apple is working on an edge-to-edge display that makes the iPhone look like a single piece of glass.
Sensors like Touch ID and the front-facing camera would somehow be embedded in the display, invisible to the naked eye, and there will be no iconic Home button on the device. Apple has been working on developing touch and display driver (TDDI) chips since 2015, so it's definitely possible that the iPhone 8 will have no Home button, and Apple has also patented a method for embedding Touch ID and an ambient light sensor in the display.
With the edge-to-edge display, KGI Securities analyst Ming-Chi Kuo believes Apple will continue to use a 2.5D curved display, like the existing display in the iPhone 7. Unlike some other rumors, he does not predict more dramatic curves that cover the sides of the device.
In this scenario, it's not clear if Apple will shrink down the iPhone to the size of the display or expand the display to match the existing iPhone sizes, but Kuo believes that if Apple introduces a large-screen edge-to-edge OLED iPhone that's around 5.8 inches, the active display area will be smaller, approximately 5.1 to 5.2 inches.
If Apple does not completely eliminate the bezels in the iPhone 8, there's a chance that a 5.8-inch display hints at plans for a wraparound screen. Display expert Ray Soneira has speculated a wraparound screen is a possibility, as seen in the mock up below, and Apple has patented similar concepts.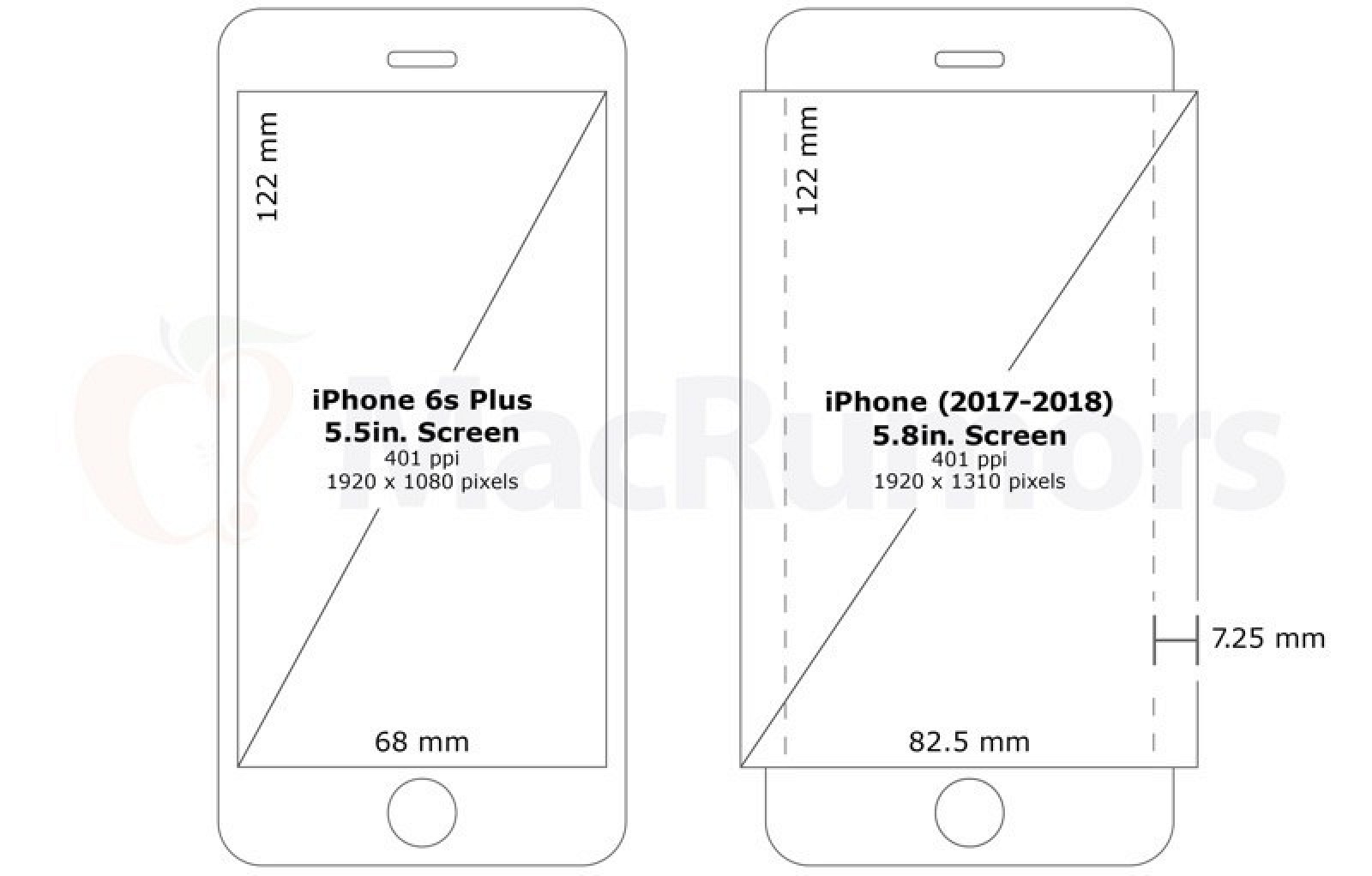 When applied to the height of an existing 5.5-inch iPhone, a 5.8-inch display like the one Apple is rumored to be working on would leave an extra 7.25mm of display on each side that could be used to wrap around the edges of the device. This would extend the display across the front and sides of the iPhone, perhaps enabling side-based gestures and buttons. We don't know what shape an iPhone with side bars could take, but the rumored 5.8-inch size of the display is about right to add side panels to current-generation iPhones.
Based on information sourced from the Asian supply chain, IHS analyst Kevin Wang also believes the 2017 iPhone will include a "dual-curve" OLED display that covers the left and right edges of the device. It is not clear from Wang's statement how far the display will extend to the edges of the device or whether it will be a subtle curve for design purposes or a functional wraparound display as Samsung uses in its Galaxy Edge devices.
Multiple reports from analysts and out of the Asian supply chain suggest the OLED display could be limited to one iPhone 8 model as a feature to distinguish it from other iPhone 8 models. Remaining iPhone 8 models would reportedly use a traditional LCD display in this scenario for a total of three iPhones in 2017.
Processor
TSMC has begun to tape out the design for the A11 chip built on a 10-nanometer process, completing the first stages of the design that is likely destined for the 2017 iPhone. Certification for the 10-nanometer process is expected to be achieved in late 2016, with the first 10-nanometer chips sent to Apple for validation during the first quarter of 2017. TSMC has reportedly secured all orders for the A11 chip.
An A11 chip, like all of Apple's chip upgrades, will be both faster and more energy efficient, in addition to being smaller.
Wireless Charging
Apple is working on long-range wireless charging technology that rumors suggest could be implemented in iPhone's as soon as 2017, making it an ideal addition to the iPhone 8. Long-range wireless charging is superior to many existing wireless charging methods because it does not require devices to be as close to a charging source or mat.
There are some obstacles to overcome before such technology can be implemented, such as the loss of power transfer efficiency that occurs when the distance between the transmitter and the receiver is increased. This causes batteries further away from a charging source to charge more slowly.
Apple has been hiring engineers with expertise in wireless charging in recent months, suggesting a wireless charging feature could indeed be in the works. With Apple planning to eliminate the headphone jack in the 2016 iPhone 7, leaving the Lightning port to serve multiple functions, wireless charging is a logical next step for the 2017 iPhone.
Apple is rumored to be seeking a supplier for wireless charging chips, and the rumor suggests the wireless charging functionality could potentially be enabled through the use of a case or other iPhone accessory rather than built into the iPhone itself.
Apple manufacturing partner Foxconn is said to be testing wireless charging modules that are intended for the 2017 iPhone. Whether the modules will make it into future iPhones depends on whether Foxconn can boost the yield rate to a satisfactory level.
There are also rumors suggesting Apple could be working with a partner, possibly Energous, a company that's developed a long-range wireless charging solution called WattUp.
We will undoubtedly hear more on Apple's wireless charging plans in the months leading up to the release of the iPhone 8, giving us a clearer picture of how it will be implemented.
Other Features
BIOMETRICS
According to KGI Securities analyst Ming-Chi Kuo, who often accurately predicts Apple's plans, the iPhone 8 could include more advanced biometric features such as facial recognition or iris scanning. Kuo has not elaborated on what additional biometric features would be used for, but presumably these would be alternate methods for accessing the iPhone or adding additional layers of protection.
Reports out of the Asian supply chain have also suggested Apple is working on an iris scanning feature, but one rumor says the feature won't be ready until 2018, so there is still some uncertainty as to whether we'll see iris scanning in 2017.
Apple is said to be sourcing iris scanning chips from Taiwan-based supplier Xintec, with Xintec planning to begin mass production on the component in 2017.
The iPhone 8 is expected to include NAND flash memory from Samsung, but it is not clear what improvements it might bring. With the iPad Pro now available in capacities up to 256GB, it's possible the iPhone 7 and the iPhone 8 will be available with 256GB storage.
TAPTIC ENGINE
An enhanced Taptic engine is one of the features that could be included in the 2017 iPhone, according to a report from Japanese site Nikkei. Apple is said to be working on a "high-performance motor" that's able to "create more complex tactile vibrations."
Such an engine would perhaps be necessary if Apple is indeed eliminating the Home button in the iPhone 8, as has been rumored. Haptic feedback could offer vibrations to denote triggers like the unlocking of the iPhone and the confirmation of a Touch ID payment, two features currently tied to the physical iPhone Home button.
CAMERAS
KGI Securities analyst Ming-Chi Kuo believes that the dual-lens camera introduced in the 5.5-inch iPhone 7 Plus will continue to be a feature exclusive to "high-end" iPhone models in 2017.
Kuo predicts a 4.7-inch iPhone with a single camera, a 5.5-inch model with a dual-lens camera, and an OLED model in an unspecified size with a dual-lens camera.
He predicts that future models will include optical image stabilization (OIS) for both the wide-angle and telephoto lenses. In the iPhone 7 Plus, only the wide-angle lens features OIS.
Release Date
For the last several years, Apple has released its iPhone updates in September, so we expect to see the iPhone 8 in September of 2017.
Apple suppliers are already gearing up to start producing components for the iPhone 8. Foxconn is developing both glass casings and OLED displays in an effort to secure orders from apple.
Beyond the iPhone 8
In 2018, Apple may add iris scanning capabilities to the iPhone, which could be used alongside of or in place of Touch ID. Iris scanning scans a person's iris, and each person's iris is unique, much like a fingerprint.
Iris scanning is also a feature that has been rumored for the 2017 iPhone, so it's not clear when the iPhone could potentially gain these capabilities, if ever. Iris scanning rumors have come from two sources, but with the 2017 and 2018 iPhones still far off, Apple's plans could change.
iPhone 8 or iPhone 7S or something else? What will the iPhone in 2017 be called?
It seems the name may have been confirmed with an Apple employee referring to the new device by the name 'iPhone 8' unprompted when speaking to Business Insider.
As we've mentioned, the iPhone for 2017 is unpredictable because it will mark a big anniversary for the smartphone.
The Wall Street Journal says: "Apple plans bigger design changes for 2017, the 10th anniversary of the original iPhone. Those changes could include an edge-to-edge organic light-emitting diode, or OLED, screen and eliminating the home button by building the fingerprint sensor into the display, according to people familiar with the matter.
"At a meeting with an Apple executive, one of the company's China-based engineers asked why this year's model [the iPhone 7] lacked a major design change in keeping with Apple's usual two-year cycle. The answer, one person at the meeting recalled, was that the new technology in the pipeline will take time to implement. People familiar with the matter said some features that Apple hopes to integrate into iPhones, such as curved screens, weren't ready for this year's models," it added.
If Apple follows the usual pattern, the iPhone 7 that launched this year will be followed by the iPhone 7S in 2017. The fact that it's 10 years since the original iPhone means this could all go out the window. Apple will want to do something special to celebrate the occasion so an 'S' model, which usually just brings small tweaks, won't suffice.
It's pretty much anyone's guess at the moment, hence, we're calling the 2017 model the iPhone 8 at the moment but it's perfectly plausible that the new phone won't conform to the traditional naming system at all. The iPhone SE (special edition) is already a thing, so perhaps Apple will go with 'iPhone Pro', iPhone Anniversary Edition' or even just 'iPhone' – although naming the iPad 3 as 'the new iPad' didn't go down too well.
A report from Nikkei suggested that in 2017 there would be three new iPhone models. It sounded as though we were in for the usual 4.7- and 5.5in models (the regular and Plus), plus a third new 'Pro' model with a 5.5in or above curved screen. Its source said the screen would be "bent on the two sides" making it sound like a Galaxy Note 7 rival. Of course, this didn't happen with the iPhone 7, though it doesn't mean we won't see a curved-screen iPhone 8.
iPhone 8 price
We're speculating for now, of course, as the iPhone 7 has only recently gone on sale. Whether Apple will introduce a price increase for the potentially special iPhone 8 is anyone's guess. However, the iPhone 7 price jumped up to £599 in the UK thanks to Brexit and we hope that it will stay the same with next year's anniversary model.